Pastor Terrye Moore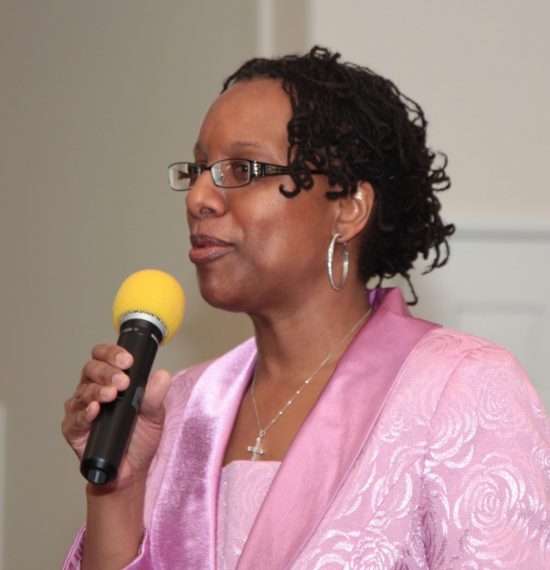 Senior Pastor
Rev. Terrye Ashby Moore accepted Jesus Christ as her Savior in 1971 and as she grew in the knowledge and admonition of the Lord Jesus Christ, she sought and subsequently received the Baptism in the Holy Spirit.  She is an avid student of God's Word.  She has felt God guiding her into His service as a Minister through the various experiences He has brought into her life.  She accepted her call to ministry and has told God that she is available for His use as He wills.  She was ordained as a minister of the Gospel in 2005 and has shared the Word of God in churches and nursing homes and at special women's events.  She even figured out a way to present The Word during multicultural celebrations and special events at her workplace.  She has used her gifts of ministry and leadership in various ways to the glory of God, ministering to youth and women through serving as a Member, Youth Leader and member of the Scholarship Ministry at Christian Life Church, as Assistant Director of the Sisters in Christ – Victorious Ones Women's Ministry, as Director of Sisters of Substance Women's Ministry, as Minister, Trustee, and Advisor to the Talitha Cumi (Tee Cee) Girls and TC Teens Ministries, and the Lifted Love Banner Ministry at New Solid Rock Fellowship Church. 
A 1981 graduate of Tuskegee University, she has also completed the Divine Discipleship for Sisters Study Program, the Women Minister's Bible Study Training and Preaching course under Pastor Gail Baisden of the Center for Evangelism, and the Preaching, Teaching, and Leadership (PTL) minister's training program at New Solid Rock Fellowship Church.  She was consecrated to pastoral ministry and installed as Assistant Pastor in 2011.  
In 2012 Rev. Moore established The Virtuous Woman's Institute (theVWI.org), a vision God gave her for ministering to the needs of the total woman.  In 2014 Rev. Moore was awarded her Master of Arts degree in Church Ministry from the Ecumenical Institute at St. Mary's Seminary in Baltimore, MD.  She has traveled on mission trips to Albania, Greece, Turkey, and Israel.     On October 1, 2017, Rev. Moore was installed as Senior Pastor of New Solid Rock Fellowship Church.  She says her calling is summed up in the Scriptures from Isaiah 49:1-6 and Titus 2:3-5.   Rev. Moore is married to Mr. Kenneth Moore and is the proud mother of two sons, James and Maurice Ashby, and the very proud grandmother of Jaxiyah and Jaxsun Ashby.